The world of online marketing is filled with endless possibilities, yet fraught with challenges at every turn. As a business marketer or affiliate, you know how important it is to track your progress and see how your efforts are paying off.
In this digital age, there's no room for guesswork. You need data and insights to make informed decisions and improve your ROI.
That's where click tracking software comes in – a lifesaver, a game-changer, a true friend to marketers everywhere. And if you're looking for the best of the best, look no further than ClickMagick. Trust me, I've seen it all, and nothing compares to the power and simplicity of this all-in-one tracking platform.
Best Link Click Tracking Software at a Glance
ClickMagick -Our Top Choice, Get Free 14 days Risk Free Trials.
Clickmeter
Click.org
Improvely
Voluum
Best For: Online Marketer, Affiliate marketer, Website Owner, Business Owner
Pricing: Free trials, $37 per month for starter plan
Recommended: Absolutely!! My Best Picks (I am using it.)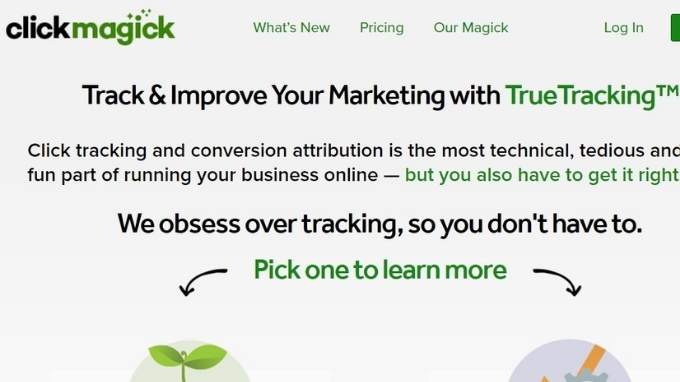 ClickMagick is one of the most powerful and flexible ways to track your conversions, monitor individual URLs, and optimize your campaign ads.
It started the journey in 2014 and now it's been using more than 100K online marketer, affiliate marketer and many other people who need to track links in order to improve many things and among them that everyone is looking for and that is conversion rate.
If a visitor is not converting then your money and time is total waste.
ClickMagick is a pure link tracking software that provides a deep insight view of each visitor to better understand the visitor location, device, brower, and many more essential information that help to improve the marketing campaign and generate maximum possible revenue.
Let's talk about its features and that's the thing you're most concerned about.
Standout Features:
Custom Tracking Domains – these features are included in the starter plan and some of other competitors charge extra for these features.
Cross-Device Tracking
Real-time Statistics about each visitor
Easily Discover Where Leads Are Coming From
Automatic Offline Sales Tracking
Sends Your Actual Conversion Data to Ad Networks
Bot filtering and blocking
Redirect
Link Redirect based on visitor locations
Click fraud monitoring
Conversion tracking
Link rotator
Advanced device targeting
And many more
Pricing:
There are 3 plans to choose from and they are Starter Plan, Standard Plan, and Premium Plan. I will discuss in detail about each plan so you know what's in there and who it is for.
Starter Plan: Free Trails and then $37 per month. These are specific feature include in the plan
This plan is best for new marketer, affiliate and business owners. Also best for those who are trying out .
Up to 10K click tracking
Real time stats
1 team member
Standard Plan: Free trials and then $77 per month. Here are the specific features include in the plan
Best for growing business that require additional tracking feature to maximize profit
Up to 100K click tracking
3 team members
Cross-device tracking
Advanced attribution models
Offline click tracking
10 domain tracking
Fraud protection service powered by ClickSheild
1 years of data retention
Priority support
Facebook conversion tracking pixel support
And many more
Premium Plan: Free trials and then $197 per months
Best for high traffic site that require extensive tracking
Able to track up to 1M link click
Unlimited custom domain, funnel tracking, and team members
Save Up to 2 years of data
Unlimited customer support
And many more
In a nutshell, flexibility is the key word to keep in mind here.
When you use ClickMagick, you can track sales and leads, monitor individual URLs to see where each visitor is coming from, and filter visitors by device or location.
ClickMagick is a very good tool for tracking links and figuring out what visitors do so that you can get the most out of your marketing efforts.
With the help of the software, marketers can make sure their marketing partners are running the best campaign possible. By using complete analytics, ClickMagick gives businesses the tools they need to make the most money from each marketing campaign.
ClickMagick is an excellent link tracking software that caters to all users from small business to big enterprise.
If you are looking for a far more powerful, advanced and flexible link tracking software, ClickMagick is the best option for you.
It's easy to use: You don't need to sign up for any other apps or do any complicated integrations to get all these features.
With over 40+ features, your marketing campaign will never be the same. Try it out, you will never regret it.
2.Clickmeter
Current Deals: Sign up for 14 days free trials
Best For: Affiliate and Online marketer
Pricing: Starting plan $29 per months and premium plan goes as much as $349 per months.
Recommend: Absolutely!! (I am using it).
Clickmeter is a professional affiliate link tracking software aimed at affiliate and internet marketers.
It fundamentally changes the way affiliate and publisher track links online. It is loved by more than 100K small and big affiliate marketers.
It is the world's most advanced affiliate marketing software that allows you to track and manage your affiliate links in a very simple way.
The goal of Clickmeter is to help you avoid waste click and optimize for conversion and to increase the revenue that is at its highest level.
Pricing: it has three plans which are Medium, Large, X-Large.
Medium:
$29.99 per months
Maximum 25000 clicks
1 year data retention
1 custom domain included
Rotator
And many more
Large:
$99.99 per months
200K event or click per months
10 custom domain
2 year data retention
Click fraud protections
And more
X-Large
$349 per months
2M click tracking
3 year data retention
100 branded domain included
100 sub-accounts
Click fraud protection
Dedicated engineer reports
Overall, Clickmeter is a simple yet powerful tool which allows you to track every single affiliate link you share on social media, your blog or website.
3.Click.Org
Best Deals: Get the Latest Deal here
Best For: Affiliate and Marketer on Budget
Pricing: Starting at $7 per month.
Recommended: Yes
4.Improvely
Best Deals: Sign up for free trials now
Best For: Large agency with no budget problem.
Pricing: Starting price $29.99 per month and premium $299 per month.
Recommended: Somewhat
Top Picks for Best Click Tracking Software
Final Thought
Click tracking is a vital component of any internet marketing campaign, and it can make or break your organization. Simply said, click tracking is about determining what drives customers and clients to convert.
Are they motivated by price or are they motivated by features? You need to know so you can build your strategy from there.
The marketing budget selections you make based on click tracking analytics help you get the most bang for your cash.
There's no doubt that click tracking is a useful addition to any website. And with the click tracking tools we've listed above, you have plenty to choose from.
They are all free to use and function well with a wide range of operating systems, browsers, and platforms. We hope this helps you narrow down your selections and choose the best one for your needs.
FAQs
How do I track clicks on a website?
If you want to maximize the amount of money you make from each visitor, you must ensure that you have the best tracking system in place to analyze the behavior of your visitors.
A click tracking software that is both simple to use and provides deep insight into your visitors will help you make data-driven decisions to increase sales and revenue for your company.
In a link tracking software, there are a variety of features that are essential for your marketing strategy as well as for improving the usability and conversion rate of your website.
Now is the time to start using our recommended tracking software, clickmagick, in order to maximize your profits as quickly as possible.
Who should use link tracking software
The use of tracking software is a must-have tool for anyone who works in online marketing, affiliate marketing, business ownership, or anyone who has a website and wants to convert more visitors into leads, customers, or clients.
You will not be able to tell what is working and what is not working if you do not track your results. Consequently, you will not be able to increase your conversion rate in the future.
It will take a significant amount of time and money to determine what is causing your conversion rate to be low.
Use tracking software that provides deep analytics to your visitor behavior in order to make the most of it and make data-driven decisions, as well as save money and time.
What is link tracking software?
A type of software that assists website owners and operators in keeping track of the links on their website is link tracking software.
Such software is important because it allows website owners to see which links are being clicked on the most and how many times each link has been clicked, which is extremely useful information for making data driven decisions.
Using this information, you can figure out which links are the most popular and which ones could benefit from some improvement. Additionally, link tracking software can assist in the identification of broken links on a website, allowing them to be repaired.
How Does Click Tracker Work?
A click tracker is a piece of software that keeps track of the number of times a particular link has been clicked on. It can be used to determine the success of online advertising campaigns, for example, by tracking the number of people who click on an ad that has been placed online.
Each time someone clicks on the link, the click tracker will generate a unique tracking ID for that individual. It will also keep track of when and where each click was made. This information can then be used to generate reports that demonstrate the effectiveness of the advertising campaign.
What is ClickMagick used for?
For a variety of purposes, ClickMagick is most commonly used for advertising click tracking, affiliate link tracking, and ad fraud detection and prevention. Also used for website traffic analysis, website optimization, and for understanding how customers interact with a website. Additionally, it can be used to track sales and conversions, identify traffic sources, and assess the effectiveness of marketing campaigns.