Shopping locally doesn't just benefit the local economy, it also comes with tons of additional advantages that range from supporting green sustainability to saving you time and money.
With so many benefits, you might assume that everyone is taking part in this venture, but are they?
Well, the latest data reveals some pretty interesting shopping local statistics that break down who's buying locally, how much they're spending, and where they go to do their research.
Read on to learn all about what recent studies have shown regarding shopping local.
Powerful Shopping Local Statistics
70% of consumers support local businesses.
57 percent of Americans say they shop locally to keep money in their community.
82% of consumers say they would spend more money to support local businesses.
28 percent of shoppers buy locally for better service, and 19 percent to support local nonprofits.
61% prefer to shop nearby because of the unique product selection.2
Small businesses give 250% more to community causes than large businesses.
For every $100 spent with them, small businesses generate $68 in local economic return.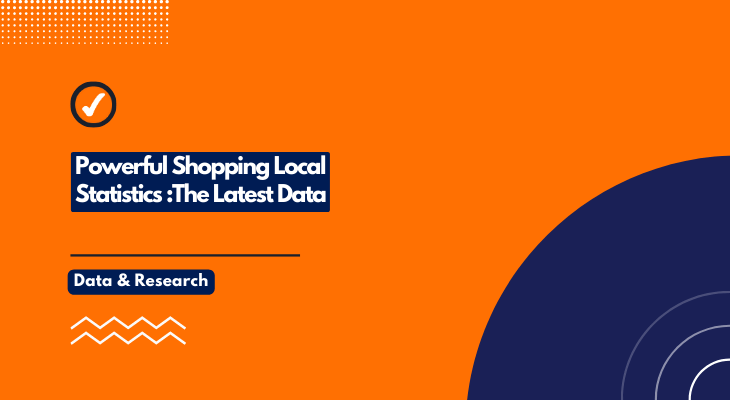 What percentage of people shop locally?
A report from Mint Intuit recently revealed that 82% of people in the United States prioritize shopping local when they can. A higher percentage of consumers shop locally for products such as produce and artisanal items compared to other goods, indicating that a move to support local businesses is underway.
Consumers are doing this because they know that these businesses are good for the community. For example, they help small businesses grow, create jobs in the area, and keep money moving in the local economy. All of these things are important for a successful community.
Benefits Of Shopping Local According to Experts
1. It helps to create demand for local jobs.
Shopping locally offers a lot of great benefits. The website Spana says that helping local businesses is good for the job market because it creates more demand for jobs. This means that by buying local, you not only get access to goods and services not available on a large scale, but also stimulate the local economy.
Shopping at locally owned stores can also contribute to keeping money within your own community, which can then be used for investment opportunities like parks or even loans for small businesses.
There are plenty of rewards to picking up items from an independent store, and when done correctly, shopping locally can have an immense impact.
2.Locally-Made Products
According to the website Metro Family Magazine, "many experts agree that when you choose to buy from locally-owned businesses, you're actively investing in your community."
Local business owners often sell locally-made products, which helps preserve the community's distinction and creates more jobs for locals as well. Furthermore, keeping money within the community stimulates GDP growth, generates profitability, and even reduces taxes. Shopping locally is a win-win situation, benefiting both the consumer and the entire community.
3.Give Back To The Local Community
Joseph Lustberg, a prominent expert on the subject of shopping local, explains that shopping local is an important way to give back to the local community. By investing in small businesses, we ensure these businesses are able to support charities and causes that impact the lives of local residents.
Not only that, Joseph notes that these small businesses donate 250% more than large corporations when it comes to supporting local nonprofits and community-led causes. Joseph affirms that all types of charitable activities can be supported, such as youth organizations, first responders, service groups, and more.
FAQs
Why do people like shopping locally?
Score.org recently stated that 61% of people prefer to shop nearby because of the unique product selection. Local shops tend to offer more personalized products and services that are tailored to their local communities.
Not only do customers get exceptional goods that can't be found anywhere else, but shopping with local businesses also helps to give back to the local economy.
Does shopping locally help the economy?
According to Michigan State University, shopping at locally owned stores could be a major boost to the economy. When consumers buy local goods and services, they are supporting their own communities by creating more jobs in the area.
These businesses not only employ their staff, but they also use these funds to purchase products and services from other local companies. This boosts business for everyone involved and helps keep money circulating within the community. It's a win-win for everyone.
Why is shopping locally so important?
Spana stated that shopping locally is great for both the environment and the people who live nearby. Not only is it convenient to find the things you need close by, but buying local also helps reduce your carbon footprint in comparison to bigger chains that have items shipped from far away.
Plus, by shopping local, you are helping support local businesses and keep your community strong. Ultimately, choosing to shop locally is a win-win situation that benefits everyone.
Source: