Automation is quickly becoming a buzzword among businesses, and for good reason.
Recent statistics show that around 31% of businesses have fully automated at least one function, which is quite impressive when you consider how much time and effort this could save.
It's clear to see why the market for automation systems is growing; it's predicted to reach well over $26 billion by 2025.
Automation has so much potential for businesses, both large and small, to help streamline processes and save precious resources. Let's look at some business automation statistics to see where it's going.
Top Business Automation Statistics
67% of businesses use business process automation solutions to improve end-to-end visibility across multiple systems.
Almost all businesses (97%) agree that automating business processes is important for digital transformation.
90% of workers are burdened by repetitive tasks that can be automated.
Nearly 45% of businesses use automation like AI to cut costs.
At least one function in 31% of businesses has been completely automated.
Growth in the automation systems market is expected to exceed $26 billion by 2025, up from $4.8 billion in 2018.
66% were testing automation solutions for at least one business process.
Do you think business process automation solutions have a positive impact on the company?
Camunda reports that 67% of businesses are implementing business process automation solutions to better monitor their enterprise-wide networks.
The benefits of automating tedious manual processes are clear-cut: employees spend less time on mundane tasks and more time focusing on actual value-creating activities. 
Furthermore, because automation software can interact with numerous systems and data structures at the same time, faults can be recognized and rectified rapidly, leading to increased operational efficiencies. In summary, business process automation is an invaluable asset that helps a company operate more efficiently and cost effectively.
How important do you think digital transformation is for your company?
Ninety-seven percent of business owners and executives, as reported by GlobeNewswire, consider process automation crucial to their digital transformation initiatives.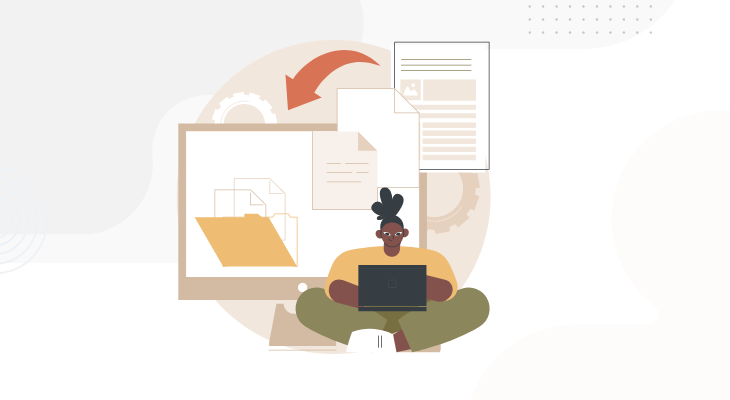 It comes as no surprise – automating business functions can bring about significant cost savings, increase efficiency, and boost customer satisfaction.
Digital transformation carries with it a variety of important benefits, such as increased agility and scalability, which ultimately translate into larger bottom lines for any firm. It may seem daunting at first, but with the right strategy in place and the dedication to seeing it through – its perks are well worth the effort!
90% of Employees Feel Overwhelmed With Repetitive Work
FAQs
What is a business automation tool?
According to RedHat, a business automation tool is a type of software that automates complex and repetitive tasks that businesses need to do.
These tools can be connected to multiple enterprise IT systems and give flexible options when it comes to customizing the solution to a specific organization's needs.
Business process automation allows for greater efficiency and accuracy in many aspects of running a business. It saves time, cuts down on human error, and increases overall productivity within the organization.
How does automation help business?
According to ADP, automation software has the potential to unlock a huge amount of value for businesses. Business leaders report that an incredible 31% labor costs are reduced by the introduction of automation.
Furthermore, it can save valuable time devoted to prospecting by 50%, and reduce task-switching-induced productivity losses up to 40%. You can't put a price on productivity gains, but you can try to measure them.
According to 70% of business leaders surveyed, they spend between 45 minutes and 3 hours daily on repeatable tasks alone! Automation is thus an excellent way for businesses to keep costs under control and still benefit from improved efficiency and productivity gains.
What is the impact of automation in business?
Penneo asserts that automation in business has a significant effect on revenue. By eliminating menial tasks previously done by humans and introducing oversight, companies can drastically reduce wasted time and maximize efficiency.
Automation interfaces help marketing professionals create campaigns, streamline financial operations, and cultivate relationships with customers, creating an environment that encourages growth and nurtures innovation.
In short, business process automation has the potential to improve the performance of any company — big or small.
Does automation increase productivity?
According to Stephen Whitehouse, a leading automation expert, automation can significantly increase productivity levels.
He claims that although manual labor is important for certain industries and tasks, automated processes tend to be quicker and more efficient.
This makes it easier for employers to meet goals within a shorter time frame and with lower costs, which in turn leads to higher production rates overall.
Automation plays an essential role in helping businesses remain competitive in their respective markets, making the use of automated processes an investment well worth considering for any business.
Source: