Running a successful business requires both dedication and hard work.
Disaster recovery plans help ensure the long-term success and stability of your organization, regardless of potential surprises along the way.
As such, it's crucial for every business owner to understand the importance of developing a solid recovery plan that can cover any unforeseen incidents or disasters.
But just how many businesses fail after a disaster?
To get better insights, we'll be discussing some insightful business disaster recovery statistics which will help you to ensure your company's future is safe and secure.
Insightful Business Disaster Recovery Statistics
40% of businesses do not reopen after a disaster. 1
Only 54% of organizations have a company-wide disaster recovery plan in place.2
93% of small businesses store data or backups in the cloud. 3
About 44% of traditional small businesses use cloud infrastructure or hosting services.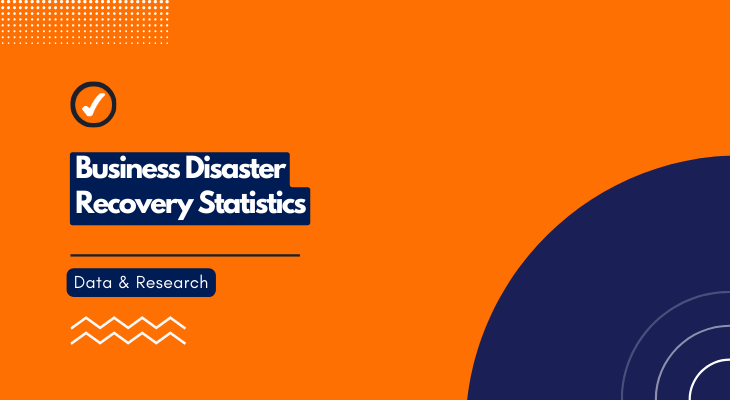 What percentage of businesses fail after a disaster?
FEMA has reported that a staggering 40% of businesses affected by a disaster don't open again due to data loss. This concerning statistic speaks volumes about the importance of having a proper disaster-preparedness plan, which should include comprehensively tracking, backing up, and continually updating critical business files off-site.
Business owners must not only account for the loss of tangible assets in the aftermath of a disaster but also the potential impact on their digital infrastructure.
With that knowledge they should strive to make sure that their businesses are prepared with adequate methods of recovery so failure isn't a necessary element of any disaster equation.
How many businesses have a disaster recovery plan?
1111 Systems reports that only 54% of organizations have an all-encompassing disaster recovery plan in place. This means that the majority of companies are leaving themselves vulnerable to the unpredictable nature of our world today.
By having an effective disaster recovery plan in place, organizations can protect their valuable resources and ensure a smooth transition during any type of disruption.
Unfortunately, it appears as though many business owners are either unaware or unconcerned with putting such plans into action – leaving their staff, customers and operations in danger.
I recommend that all organizations ensure they have a comprehensive disaster recovery plan to prevent any costly damage should emergency circumstances arise.
How many businesses don't have a disaster recovery plan?
According to data we recently gathered, 44% of businesses have yet to properly establish a plan that will ensure their operations can continue in the event of a natural disaster, pandemic, cyber attack or other major crisis.
Without an effective recovery plan, businesses stand to suffer massive losses both in terms of finances and reputation. Taking the time and effort now to create and test a comprehensive business continuity plan could make all the difference when disasters strike.
How many businesses back up their data?
A staggering 84 percent of all businesses store their data backups in the cloud, according to Unitrends Reports' "Data Protection, Cloud, and Proof Draas Delivers – Unitrends 2019 Survey Results," which was published approximately in June 2019. A further 8% intend to do so within the next year.
By investing in cloud technology, companies can be sure that their valuable data is securely stored offsite, protecting it from any potential harm.
With the high percentage of businesses backing up their data in the cloud, it's clear that this method is reliable as well as practical for digital storage needs.
How many businesses have moved to the cloud?
Research according to Cloudzero suggests that 44% of traditional small businesses are currently utilizing cloud infrastructure and hosting services.
This is a stark contrast when compared to the high percentages of small tech companies at 66%, and enterprises at 74%.
Perhaps even more fascinating is the report from CloudZero which states, within the next year the public cloud will dominate 63% of SMB workloads and 62% of SMB data. All in all, it's clear that an increasing number of businesses are taking advantage of the cloud.
Top 5 Reasons Why disaster recovery plans fail according to Expert
1. Failing to recognize and comprehend recovery dependencies
According to Kaseya, many disaster recovery plans fail because they do not properly identify and understand recovery dependencies. When backup and data retention strategies are not aligned with specific restore expectations, organizations can face disastrous results.
Just restoring server functions is insufficient, especially when business activities rely on multi-tier or N-tier applications.
In these cases, processing, data management, and presentation functions must all be communicated accurately across the entire system in order for disaster recovery to be successful.
2.LACK OF "TESTING"
According to Sungardas, a lack of testing is one of the primary reasons why disaster recovery plans fail. Testing, validating, and exercising of all plans, and services are essential in order to ensure that the plan will work when needed.
Sadly, many firms fail to do these tests for a variety of reasons, including time constraints, expenses involved, or just underestimating the consequences of not properly testing.
Lack of preparation has far reaching effects on an organization's overall investment in developing such solutions. Failure to exercise plans and people on a regular basis leaves everyone completely unprepared for any potential disaster scenario.
3.Focus on your back
According to Datamation, one of the biggest reasons that disaster recovery plans fail is due to data-related issues.
Out-of-date backups, corrupted data, or a lack of data backups can all utterly undermine disaster recovery activities.
To ensure your data is prepared for any situation, it's important to create backups in a separate geographical location. In the event of a large-scale disaster like SuperStorm Sandy, remote storage may be the only way to access your information when local access has been lost.
4.Key employees "didn't get the memo."
According to Otava, a common cause for disaster recovery plans failing is that key employees 'didn't get the memo'.
Too many companies draw up complicated plans without investing enough in understanding the document's importance and communicating it effectively.
It is critical that everybody who may need to implement the plan has easy and consistent access.
Printed copies are necessary, since this may be exactly the time when you don't have access to a computer or electricity. Of course, all of this effort is only worthwhile if everyone involved understands why following the plan matters.
5.Failure to Follow Media Management Best Practices
According to Kaseya, failing to follow media management best practices is one of the most prevalent reasons why a seemingly great disaster recovery plan fails. Mishandling of tapes, detachable hard drives, and other backup or archival media is included.
Mislabeling tapes or archive drives, for example, can make recovery from these media difficult. To circumvent this issue, the entire backup, off-site replication, and long-term retention procedure must be automated.
Furthermore, Disaster Recovery as a Service (DRaaS) and self-healing hardware with remote monitoring are useful alternatives for limiting human errors and keeping your company's data safe in the event of a disaster.
Source