AI has recently been introduced to the market research industry and its potential for success is looking quite promising.
According to Andy Pandharikar, CEO and Founder of Commerce. AI, "AI in market research will have a major influence on how companies build products".
Research indicates that 80% of people think AI will be beneficial to the market research industry. In the future AI could change how companies conduct their market research in a big way, hopefully making the process more efficient and accurate.
AI in Market Research
80% believe AI will have a positive impact on market research.
AI is viewed as an opportunity by 93% of researchers and a threat by 7%.
63% believe AI will take over data analysis within the next ten years.
Sources: (Qualtrics, qualtrics.)
How does AI affect marketing research?
AI technology in the marketing research industry will be a powerful tool that many experts predict will have a positive effect which is around 80% according to Qualtrics latest reports..
AI eliminates much of the guesswork from market research by using consumer behavior data to inform campaign decisions.
This helps companies create more effective, insightful and targeted advertising campaigns, leading to better results. Furthermore, the use of artificial intelligence democratizes the market research process.
By expanding access and eliminating research skills requirements, small and medium-sized businesses now have access to powerful market insights that were previously only available to large corporations with extensive resources.
AI in marketing research can also be used for creating and testing product features, so companies are able to build products tailored to their target audience's needs like never before.
AI Market Research Tools
#1.Google Trends
With today's technology, it's easier than ever to search for data that provides insight into the market. Google Trends is one of the best market research tools accessible.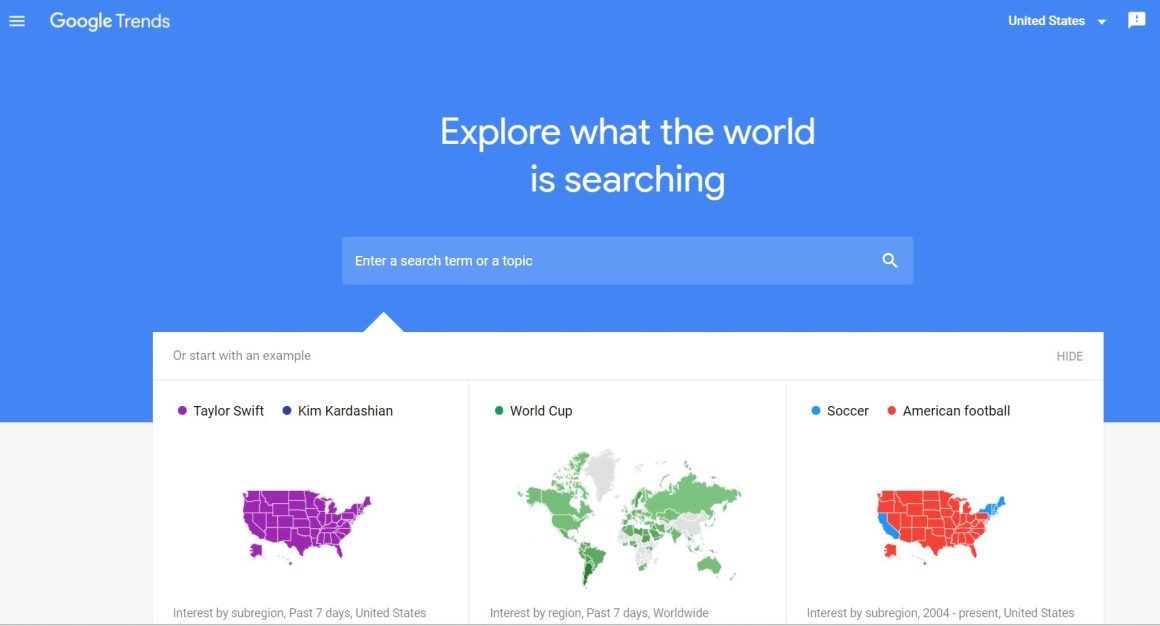 Google Trends is a free tool that allows you to research trends in the market. By analyzing billions of searches from Google, it can give you a deeper understanding of what people are searching for and how those searches change over time.
You can easily see relative volume for specific search terms as well as compare multiple topics side by side to get a deeper look into customer behavior and preferences. With Google Trends, you can gain key insights into the pulse of the market and make more informed decisions.
#2. Latana
Latana is the ultimate tool for understanding how your brand is performing. It helps you measure key metrics such as brand awareness, sentiment and consumer insight to understand how people think about your brand.
Latana has the highest levels of accuracy so you can trust the data it provides for benchmarking.
Latana is a great resource for Brand Managers, Marketing Professionals and Business Owners who want to stay up-to-date with their brand performance.
If you want to track your brand's performance more carefully, Latana is a must-have tool in your arsenal.
#3. Remesh
Remesh is a breakthrough technology that provides qualitative insights at a quantitative scale. Remesh has a wide range of uses and can be used in research, stakeholder engagement, and product development.
Moreover, Remesh is mission-driven, which means that the company continues to work hard to better understand others in order for their products to be more effective. Thus, Remesh offers companies an invaluable advantage when it comes to understanding their audiences.
#4. Kompyte
Kompyte is an amazing competitive intelligence automation software that helps businesses get the best information about their competitors and stay updated on their activities. Kompyte's platform enables firms to track real-time market developments and equip sales staff with battlecards that are tailored to help them close more deals.
This technology makes it easier for businesses who want to increase their competitive win rates, automate their competitive intelligence process, and empower sales teams with up-to-date insights that can be accessed quickly and easily.
Kompyte provides a powerful solution for all these needs, giving you the edge over your competitors.
Mention is a powerful program that lets you stay on top of what people are saying about your brand online. Mention monitors over 1 billion sources daily, making it easy to keep track of all the conversations related to your business.
The user-friendly interface allows you to quickly make sense of the data, enabling extensive analysis and deeper insights into what consumers are saying.
Mention is the perfect tool for companies who want to maximize their online presence, such as brands, agencies and marketers who need an edge in their client's industries. You can quickly increase brand recognition and take control of your online reputation by leveraging Mention.